Bradenton Riverwalk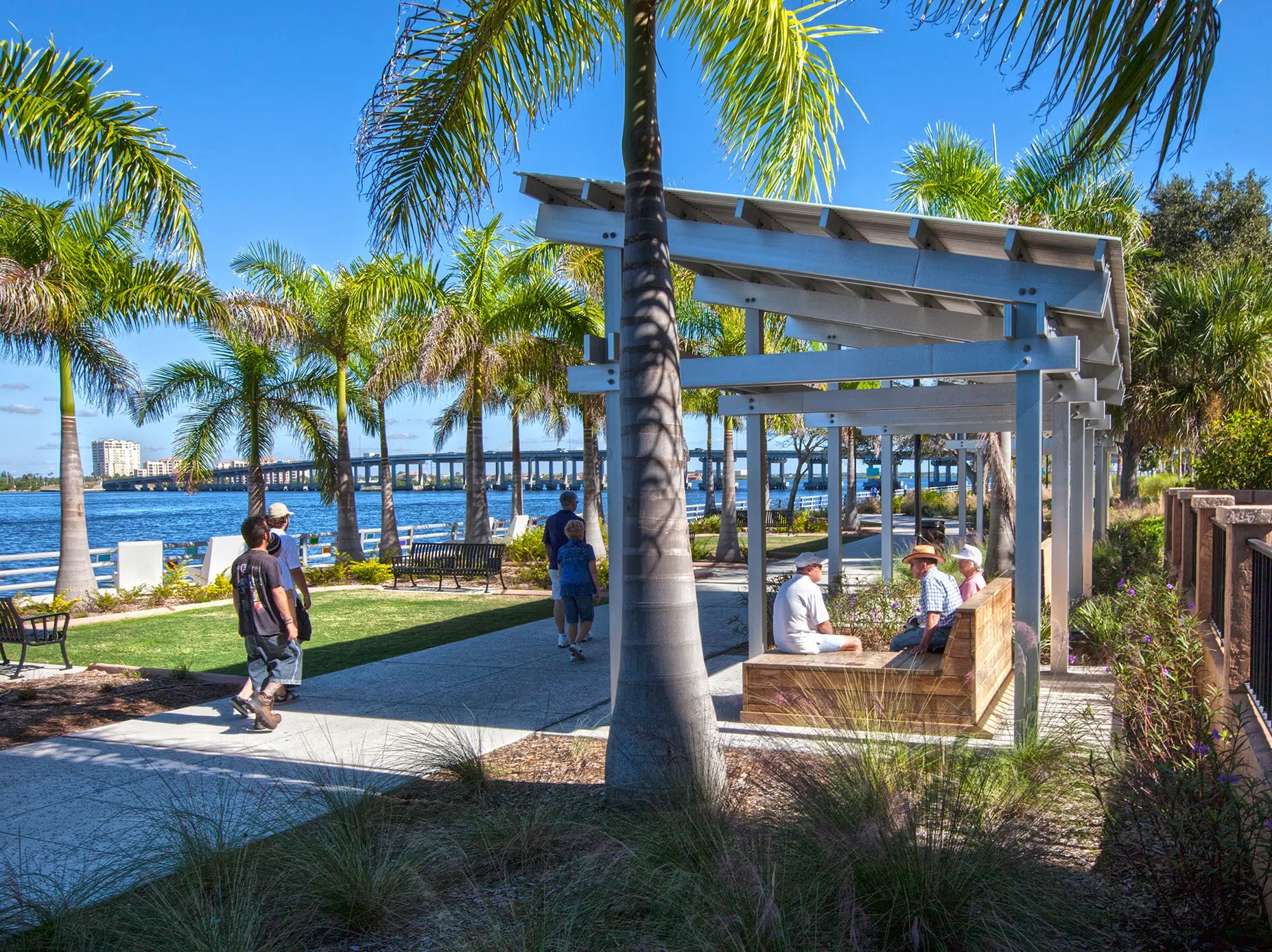 In partnership with the Bradenton Downtown Development Authority, Kimley-Horn prepared both a master plan and construction documents for the 1.25-mile-long Bradenton Riverwalk along the Manatee River in Downtown Bradenton.
Original Design
Opened to the public in October 2012, the Riverwalk includes a Family Fun Zone with a splash fountain and playgrounds, a lawn for picnics, a day dock for boaters, a skate park, a botanical walk, and the 400-seat Mosaic Amphitheater. There's also a fishing pier for catching fish like snook, redfish, and trout.
Kimley-Horn provided a number of services, including public engagement, programming/master planning, landscape architecture, civil engineering, permitting, public art coordination, and construction phase services. The team facilitated an extensive public involvement program to identify opportunities for enhancement to the existing Riverwalk as well as features that would attract users to the waterfront on a regular basis. We also collaborated with University of South Florida (USF) Architectural Graduate students as part of a summer design studio.
Kimley-Horn coordinated closely with the City of Bradenton, Southwest Florida Water Management District (SWFWMD), and Florida Fish and Wildlife Conservation Commission (FWC) to obtain over $1 million in grant money.
Eastward Extension
In August 2017, the Bradenton City Council unanimously approved plans for the eastward expansion of the popular Bradenton Riverwalk. Currently, the park connects with the downtown area by the city marina and South Florida Museum, follows a boardwalk beneath the Green Bridge, and extends to the Manatee Memorial Hospital. Kimley-Horn will develop a master plan to extend the Riverwalk about one mile east to 14th Street East and Manatee Mineral Springs Park (also known as Indian Springs Park). Once the master plan is complete, the team will proceed with the preparation of construction documents.
In partnership with Realize Bradenton, a group that promotes the City's downtown area, Kimley-Horn will conduct surveys and public forums to gather ideas of the amenities residents, merchants, and other stakeholders would like to see included as part of the extension. Possible features include additional public art, playground and fitness equipment, special streetscape enhancements, and landscaping and designated areas for events and social activities.
Splash pad/interactive water feature
Playground areas for 2 to 5 and 5 to 12 year olds
Restroom, pumphouse, and concession area
Day dock
Fishing pier
Three event lawns
Botanical walk
Beach volleyball
Canoe/kayak launch
Custom skatepark
Enhanced lighting
Shade throughout utilizing fabric canopies, pavilions, and shade trees
Seating
Enhanced environmental graphics/signage
Public art and sculpture
Dog-friendly amenities
I'm so excited I can hardly stand it… It's really first class. Everybody we take on the tour is blown away.
Mayor Wayne Poston
City of Bradenton, Florida
Project Recognition