Project Overview
Located within the 50th and France District of Edina, MN, Nolan Mains Residences is a six-story complex that includes luxury apartments, street-level retail space, and underground parking. Quaint paver-lined alleys maintain the District's historic ambiance and meet modern stormwater requirements. The project also involved the vertical and horizontal expansion of an existing parking structure adjacent to the Nolan Mains Residences. Kimley-Horn provided site design and structural engineering services for the redevelopment, adding one level to the existing structure and expanding it on the east and west ends. Retail spaces were included within the expansion on the first and second levels, with accessible parking on all levels.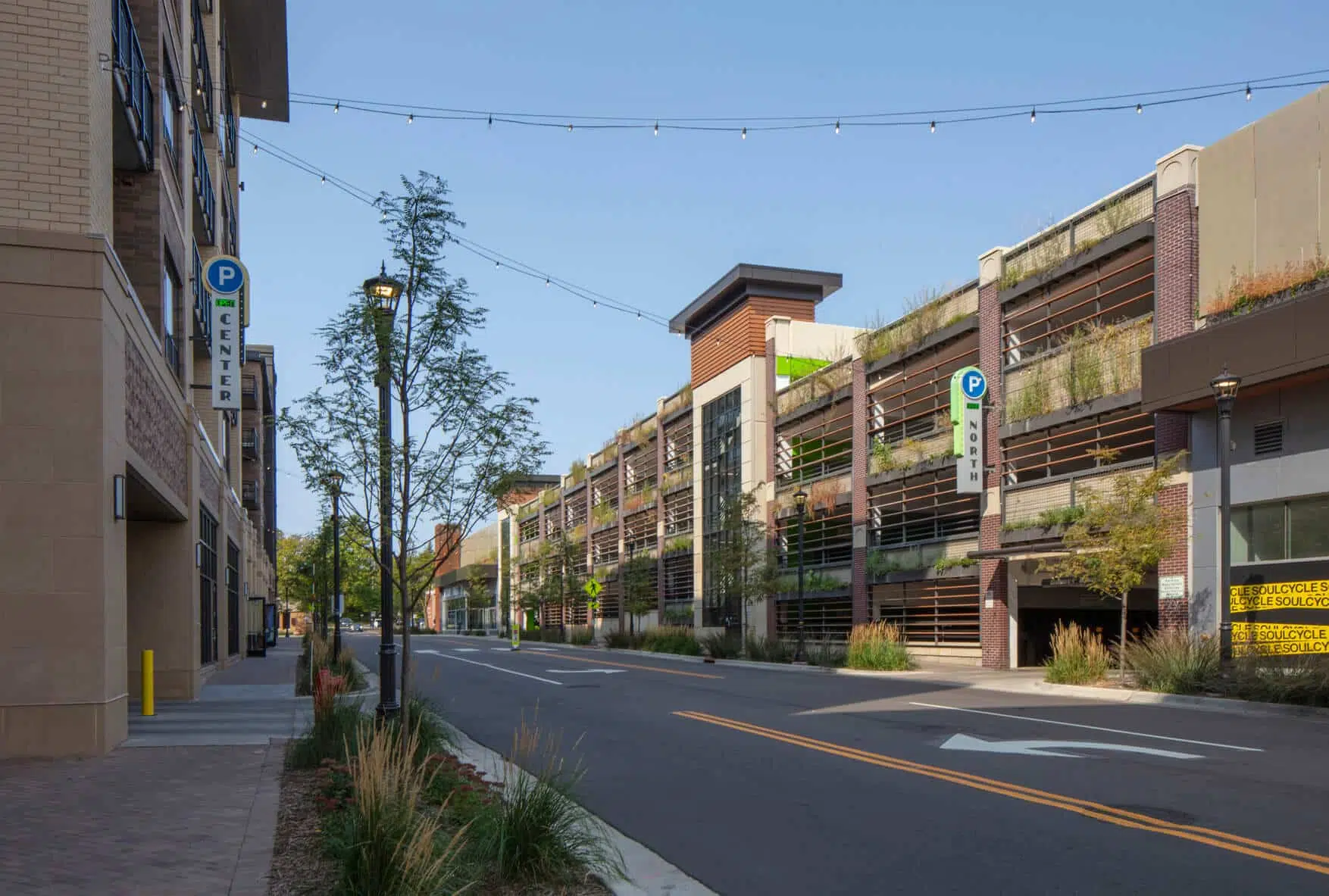 Planning and Design Phase
A public request for proposal was released from the City for a small lot, with the liberty to expand onto other property of the City. Kimley-Horn's previous experience with Edina's wayfinding and parking count system helped the team understand the 50th and France District and what the area was missing.   Our grand vision with the architect and developers proved to be the only bold expansion plan, ultimately leading to our selection on the project. The newly built retail storefronts surround the entire perimeter of the buildings with a woonerf to help slow traffic and make loading, bike, and pedestrian access safer. During the construction phase, all existing retail remained open with temporary traffic control and valet parking for patrons. These occupied spaces had to be considered during the planning and design stage to allow for an increased height and density than the existing zoning permitted.
Development Phase
Kimley-Horn performed a
parking supply and demand analysis
 during the development phase to assure the City and business owners there would be enough parking during the holiday shopping season. Our team also carried out crane analysis and FAA permitting of two projects constructed simultaneously on an open road and assisted with sequencing the development to avoid a deficit in parking during the expansion of the north ramp and demolition of the center ramp. Our engineers conducted a laser scan of the existing ramp to capture the exact size and condition of the structure and help neighbors and tenants visualize how the new expansion would look in their backyard. In order to exceed the existing height and density restrictions for the area, Kimley-Horn worked closely with City of Edina staff to obtain approval for the redevelopment of the north ramp and the apartment building.
Community Impact
The Nolan Mains Residences on Market Street further enhanced the 50th and France District and improved what was formerly an impediment to the pedestrian experience. The design aided overall public realm improvement by adding
rectangular rapid flashing beacon crosswalks for public safety
, creating convenient crosswalks, and providing accessible delivery ports to each retail location. This redesigned development is now a large, inviting plaza for gatherings, art fairs, holiday celebrations, and luxurious living.
Project Recognition